Paithan Gardan (Copy Vrindavan Mysore Garden)...
Recently built is a famous "Sant Eknath Garden" spread over huge 97 acres of land. This is a replica of the Vrindavan Gardens of Mysore, and is used to shoot various scenes for the Hindi and Marathi Movies. Known the world over as a poem hand woven in silk and gold, Paithani Sarees are for those with discerning and refined taste. The art of weaving Paithani flourished in 200 B.C., during satvahana era. Since then paithani is coveted in India as a precious heirloom passing on from generation to generation. Exquisite Silk from Paithani was exported to many countries and was traded in return for gold and precious stones. Shear dedication and the faith of the weavers has kept alive paithani silk work for more than 2000 years.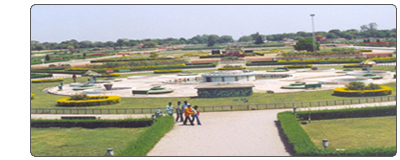 Real paithani is hand woven in pure silk and gold / silver. Intricate designs on Pallu and border is a speciality of paithani sarees. Motifs on pallu are generally peacock, parrot, lotus, mango and other designs taken from Ajanta Caves. Traditional creative artistry and painstaking workmanship combine to form this unique cloth. Paithani sarees can take between 2 months to 2 years to manufacture, depending on border and pallu design and costs from Rs. 6000/- to Rs. 500,000. The Paithani Sarees are available at all major textile outlets and the Paithani weaving Center ( Opp. MGM Hospital) in the city of Aurangabad.

Paithani Sarees:-
Places around

A variety of resident and migratory birds can be sighted here. The best season for bird - watching is between October and March. The most interesting attraction of this area is the huge Gyaneshwar Udyan, built on the lines of the famous Vrindavan Gardens in Mysore, Pinjore in Haryana and the Shalimar in Kashmir. Paithan was famous as a seat of learning. A trip to the garden at the Jayakwadi dam with its dancing fountains and special observation points for bird watching is also an option. The modern village of Paithan was built on top of a large settlement of mound that extends back to early history. It was previously known, as Pratisthan and was the ancient capital city of the Satvahanas from 2nd Century BC. Located deep in the Daroq Mountains, Paithan caves are not often visited by nightmare adventurers because of its tradition of death.

Location 56 kms south of Aurangaba...