Ellora Caves Near Aurangabad...
The Ellora Caves are a group of 34 caves that symbolises the brilliance of Buddhist architecture in India. The caves are representatives of three faiths- Hinduism, Buddhism and Jainism. 12 of the caves are Buddhists, 17 in the centre represent Hindu faith while remaining 5 caves to the north are representatives of Jainism. Entry fee for Indians who are above 15 years is Rs 10.00 and for foreigners it is Rs. 250 per head. Free entries are provided on Fridays. The caves are open from sunrise to sunset. October to March is the best time to visit the caves.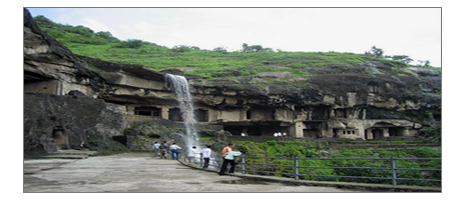 History of Ellora Caves...
The Ellora caves were carved between 350 AD and 700 AD. The caves have a universal significance as they represent an amalgam of the pantheon of India gods and goddesses. Ellora is a centre of Tantarism and magical and occult practices can be observed here. There are 12 Buddhist caves, 17 Hindu temples and 5 Jain temples. The Buddhist caves date back between 200 BC to 600 AD. The Hindu temples date back from about 500 AD to 900 while the temples representing Jainism date from about 800 AD to 1000 AD. Among the three groups of structures, the Hindu caves are the most beautifully designed.

Architecture of Ellora Caves...
Spreading over an area of 1 mile ( 2 km), the Ellora caves are a collection of thirty-four magnificent rock-carved temples. The temples are carved out of basaltic cliffs. The Hindu caves are the most elaborately designed. Cave 16 is called Kailasa for its location in the Kailas range of the Himalayas. In this cave resides the Hindu God Shiva. This cave was built in during the rulership of Krishna I ( about 756- 773). The Kailasa cave is known all over for its brilliant architecture and its elaborate workmanship. Cave 12 is a Buddhist cave and is also known as Tintala. The most fascinating fact about the cave is that this 3-storey structure has been carved out of a solid rock.

Listing Of Caves...
Buddhist Caves: 5 th century to 7 th century AD Caves 1 to 12 at the southern end.
Hindu Caves: 8 th century to 10 th century AD Caves 13 to 29 in the middle.
Jain Caves: 9 th century to 11 th century AD Caves 30 to 34 at the northern end.

Timeing Of Caves...
From 09 hours to 17:30 Hrs or Sunset whichever is earlier (Closed on Tuesday)
Entry Fees:-
1) For Indians above 15 years : Rs. 10/- per head.
2) For Others above 15 years : US$ 5 or corresponding to Rs.250/- per head.

How To Reach Ellora Caves:-
By Air:- Nearest airport is Aurangabad 42 kms From cave & Pune Airport 260 Kms& From Mumbai International Airport 404 Kms.
By Rail:- Aurangabad 35 Kms Jalgaon 165 Kms on Central Railway is a convenient railhead.
By Road:- Aurangabad Mumbai, Jalgaon, Manmad, State Transport and luxury buses run from Aurangabad and Jalgaon.