Bibi Ka Maqbara ( Mini Taj Mahal )...

Situated about 5 kms from the city is Bibi Ka Maqbara, the burial place of Aurangzeb's 1st wife, Rabia-ud-Durrani. It is an imitation of the Taj at Agra, termed as the poor man's Taj Mahal. Located behind the mausoleum is a small archeological museum. This mausoleum is also termed as 'poor man's Taj Mahal' owing to it being a poor replica of the Taj. Behind the mausoleum is located a small archeological museum. Emperor Aurangzebs son built this monument in 1679 AD in memory of his mother Rabia (Aurangzeb's wife).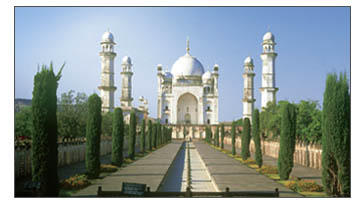 The Bibi-Ka-Maqbara is made mostly of sandstone and has plastered walls (a cost cutting measure), and a marble dome. The expert - Ustad Ata-ullah came from Persia. Bibi Ka Maqbara is known as the South Indian Taj. However, if the delicacy of work is compared, it falls far short of the glory of the Taj at Agra. Below the tomb, lattice works are in marble. However, the lattice work and inlay decorations of flowers and creepers are beautiful. The Masjid is to the west. A high wall with bastions runs around edifice and the recesses have little minarets. The entrance leads to an arch and from this point, a fine view of the structure ahead may be obtained. The pavement that leads to mausoleum is flanked by oblong reservoirs.

How to get there:-

By Road :- Aurangabad is well connected by road with Ahmedabad 623 Km, Bangalore 1004 Km, Khajuraho 1026 Km, Pune 233 Km, Mumbai 392 Km, Nashik 204 Km, Nanded 277 Km, Jaipur 1013 Km, Shirdi 121 Km, Delhi 1371 KM .

By Rail :- Aurangabad is directly connected by rail with Bhopal, Gwalior, Mumbai, New Delhi, Hyderabad, etc.

By Air :- Aurangabad is connected by verious Airlines with Delhi,Mumbai.