Bhima Shankar Temple...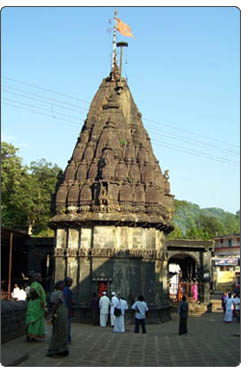 Bhimashankar Jyotirlinga is situated in the north of Pune, on the Sahayadri, by the banks of the river Bhima. It is from here that the Bhima River flows. It is believed that Lord Shiva was pleased by the devotion of a king named Bhimak of the sun Dynasty and is called the Jyotirlinga in the place. But according to the Shiv Purana the Bhimashankar Jyotirlinga is situated on the Mountain Brahmapur, district Kamrup of Assam. Lord Shiva had incarnated so that he could destroy the demons and protect his devotees and for the welfare of one and all.

It is believed that once upon a time in the place called Kamrup a great devotee by the name of King Kamrupeshwar would reside. He would be constantly abandoned in the worship of Shiva. During the same a demon named Bhima emerged and started harassing the people. He had heard many a things about the sublime devotion of Kamrupeshwar. He wanted to kill King Kamrupeshwar. No sooner he attacked the king absorbed in worship, his sword fell on the linga instead of the king. Instantly Lord Ashutosh appeared and destroyed Bhima along with his army. Seeing this, all were elated. On the sincere request of the gods and sages he agreed to reside there eternally by the name of Bhimashankar.

This temple is closely associated with the legend of Shiva slaying the demon Tripurasura associated with the invincible flying citadels Tripuras. Shiva is said to have taken abode in the Bhima form, upon the request of the Gods, on the crest of the Sahyadri hills, and the sweat that poured forth from his body after the battle is said to have formed the Bhimarathi river. The Temple: The Bhimashankara temple is a composite of old and the new structures and is built in the Nagara style of architecture. It is a modest temple yet graceful temple and it dates back to mid 18th century. The shikhara of the temple was built by Nana Phadnavis. The great Maratha ruler Shivaji is also said to have made endowments to this temple to facilitate the carrying out, of worship services. As with other Shiva temples in this area, the sanctum is at a lower level. Although the structure here is fairly new, the shrine Bhimashankaram (and the Bhimarathi river) have been referred to in literature dating back to the 13th century CE. Saint Jnaneshwar is said to have visited Tryambakeshwar and Bhimashankar.

How To Get There:-

By Road:- Bhimashankar is situated around 260 kms from Mumbai via Pune.From Pune You have to take the road that goes to Wada to reach Bhimashankar.

By Rail:- The nearest Railhead is the Pune which is at a distance of 95 kilometres from Bhimashankar.

By Air :- The nearest airport is the Pune Airport which is at a distance of 95 kilometres from Bhimashankar...