Aurangabad Travel Guide...
Aurangabad City is well known for its world famous Ajanta, Ellora Caves , Architecture, Handicrafts & I ndustries like Bajaj Auto, Garware, Wipro etc. Historical monuments within the city i.e. Aurangabad caves. Bibi-Ka-Maqbara. Panchakki & the world Heritage monuments such as Daultabad fort & Lonar Crater surrounding the Aurangabad region, which attract the highest number of tourists in Maharashtra.



The delightful photography and fascinating climate. Historical base, great potential of business & industrial location with good facilities, attracted a number of companies & business firms to start their ventures in Aurangabad. The major industrial areas are Waluj, 'Chitegaon, Chikalthana, (Shendra is a new 5 star in industrial location under developing stage). Aurangabad city is well connected by Air Road & Railway with other cities and stages. It also provides excellent accommodation in varied star hotels. The world famous tourist spots, roaring industrialization & incredible growth due to easily available resources has made Aurangabad is one of the fastest developing city in Asia.

Modern Aurangabad retains an Islamic ambience and still retains an old world charm. Veiled women (in burkhas) move about in the Chowk area, the call of the muezzin can be heard over the din and bustle of traffic, and come Friday, large crowds veer towards the mosques for ritual prayers. But the city has donned a more contemporary face as a major industrial centre for pharmaceuticals, automobiles, textiles and electronics and as the gateway to the cave temples of Ajanta & Ellora.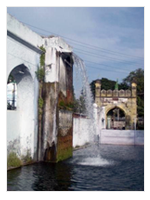 The history of Aurangabad can be traced back to 1610, when the former Abyssinian slave and then prime minister of the Muslim kingdom of Ahmednagar, Malik Ambar establishment a city on the site of an old village called Khirki. His son Fateh Khan named the city he ruled over, Fatehpur in 1626.

How to get there:-

By Road:- Aurangabad is well connected by road with Ahmedabad 623 Km,Bangalore 1004 Km,Khajuraho 1026 Km,Pune 233 Km,Mumbai 392 Km,Nashik 204 Km,Nanded 277 Km,Jaipur 1013 Km,Shirdi 121 Km,Delhi 1371 KM.

By Rail:- Aurangabad is directly connected by rail with Bhopal, Gwalior, Mumbai, New Delhi, Hyderabad, etc.

By Air:- Aurangabad is connected by verious Airlines with Delhi,Mumbai...